Espresso lovers also give slow filtration brews a try. Both new and old methods are ideals to develop the original typicity of our grand crus. These slow filtration also called "brew" or "slow coffee" are flavouring agents of aromas and terroirs.
THE ART OF SLOW FILTRATION BREW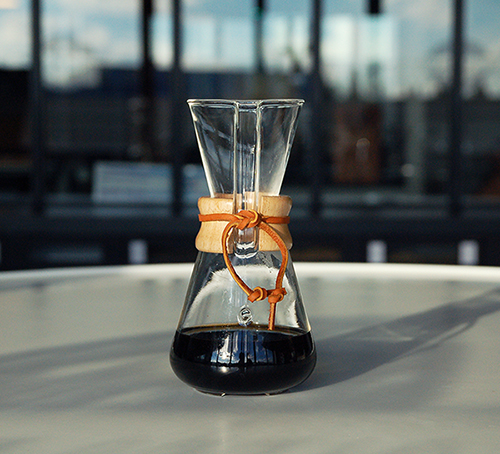 Chemex
If syphon coffee maker (successor of the famous Cona) is historic in the prestigious French hotel business, the French press coffee maker is still very popular. One is for its spectacular decompression extraction process and unique aromas, the other is for its ease of use, originality and delicious coffee.
Invention of the 40s, Chemex comes back in the spotlight with a sleek design and an infusion that reveals an elegant cup with refined aromas.
But new technics have emerged and find their audience. The manual pouring has been redone with the filter holder V60 and its lateral spirals which ensure a homogeneous extraction, high in aroma. Just like the Aeropress that captures the best coffee flavors using compressed air.
Cold filtration, although more confidential, is also gaining traction, with its almost hypnotic drip extraction and round, concentrated aromas.
If you want to discover these new aesthetic, delicate and aromatic ways to offer them to your customers, a demonstration can be offered by your sales representative at the l'Académie du Café.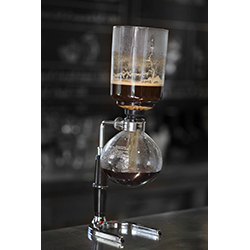 Siphon ("Cona" style)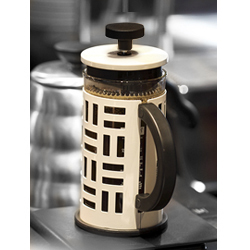 Piston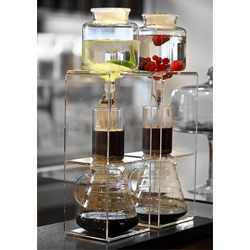 Cold brew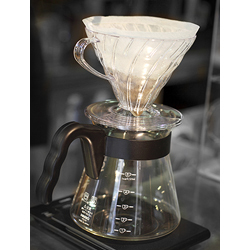 V60
---
Filter Coffee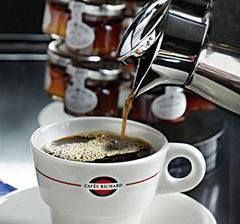 Café Richard chooses quality aromas for their freshly made coffee filter solutions. This range is adapted to large consumption, such as offices and self-service where speed and reliability are met.
Designed to preserve all flavors, they allow you to offer a filter coffee with strong aromas for breakfast but also throughout daily breaks.
Coffee pack is a full filter coffee range: pre-dosed ground coffee sachets + filters + descaler dose.
Various types of coffee pack are available: 100% Arabica, Arabica / Robusta blends, fair trade coffee... All our coffees are selected, roasted and packaged for professional use.
A tasting test is carried out at each green coffee deliveries in order to ensure compliance with the selection criteria.
---
OTHER COFFEE SOLUTIONS
BEANS AND GROUNDS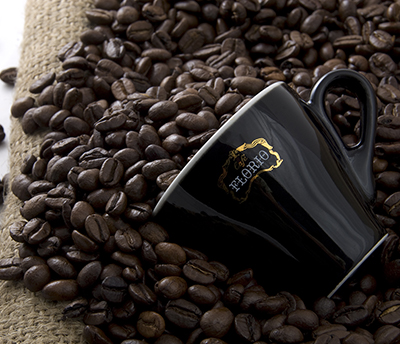 FAIR TRADE - ORGANIC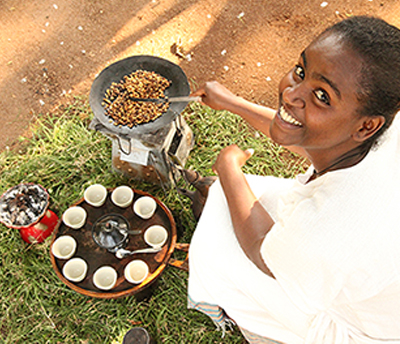 EXPRESSO PODS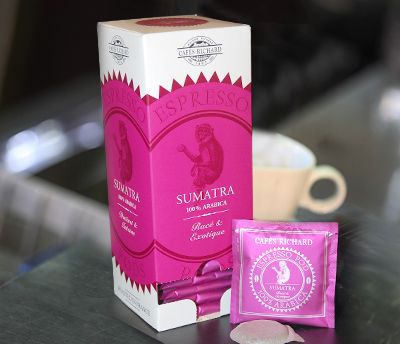 CAPSULES