Our capsule range has mainly made for bars, hotel rooms, meeting rooms, events, offices, stores, communities. We offer 2 sorts of capsules to make sure we have a solution for each setup.
COFFEE PREMIUM CAPSULES: A REFINED EXPRESSO RANGE
Coming from the best origins, Cafés Richard has created 5 blends in the purest tradition of espresso codes, from the most intense to the most velvety. The elegant and silent Ventura coffee machine allows subtle coffee notes to flourish fully, revealing a smooth cream. Each premium capsule contains over 6 g of coffee, giving each cup more aroma, intensity and body.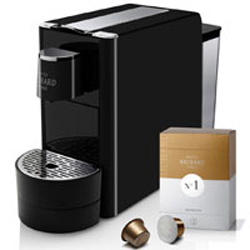 N°1 Espresso - A round and balanced blend from the best Arabica "crus", with a hint of robusta, to provide an espresso with an ample and dense savour.
N°3 Intense Espresso - A subtle balance between finesse, force and plenitude. Contains high altitude produced coffees for an aromatic intensity. A hint of Robusta adds body and character.
N°6 Decaffeinated Espresso - This blend preserves all of its aroma and taste, offering the pleasure of an espresso without caffeine.
N°7 Vanilla Espresso - A balance between an exclusive blend of Arabica "crus" and an aromatic vanilla note with subtle and sweet flavours.
N°8 Velvety Espresso - An exclusive blend of the finest Arabica origins for a well-balanced espresso with medium body and a light sweet acidity.
Exclusive system. Capsules without aluminum. 24 capsules box
---
MULTI DRINK CAPSULES: A FULL OFFER
Cafés Richard offers a professional multi-beverage solution that gives a hot drink range to vary tastes, according to the moment in a single capsule machine. From creamy espresso to teas in leaf or tasty hot chocolates, multi drink machines have a sleek design and guarantee an optimal extraction to get the best aromas and on top of that, it's ideal for small spaces.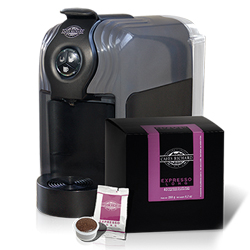 Coffee - intense Espresso, Soft espresso, Long espresso, organic & fairtrade expresso, decaffeinated expresso
Tea Leaves - Breakfast tea, Earl Grey Tea, Mint Green Tea
Chocolate drink - Bianca milk-based capsule, supplemented with a dose of Van Houten cocoa-milk flavour and a hazelnut-flavoured cappuccino dose
40 capsules box
---