Created in January 2011, this new entity aims to meet a growing demand, as teas and herbal teas become increasingly popular with consumers. Our modules deal with a preparation and drinking ritual governed by specific codes, and reveal all the secrets of a fine tea selection that will delight many drinkers.
We can also help you draw up a menu for your establishment, which complements your range of dishes and treats or is simply tailored to your customers.

Join us on Facebook
---
The Universi Thé has its own Zen area to encourage a spirit of discovery. It is based on the theme of travel, and you can see and smell many different teas and herbal teas with its tea organ. It is designed to provide an introduction to professional tasting and shows you how to present the essential serving accessories.
For the more theory-based lessons, we have a lecture hall with room for up to 40 people.
---
The tea rituals in two modules
1. The art of tea:
from tea plant to teapot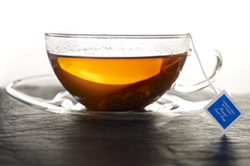 2. The Teaista:
a tea steward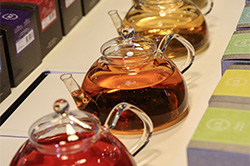 ---
The training venue
Training takes place at the UniversiThé, at Cafés Richard head office, near Paris.
If you wish, the courses can include a tour of the site where you can learn about artisan and industrial coffee roasting, and follow the green coffee on its journey from delivery to packaging.
---
Who is it for ?
All players in the horeca business are welcome: independent establishments, restaurant chains, companies, hotel schools… and our export distributors.
For personalised sessions or further information, contact: export_cafes@richard.fr
---
Your expert
Lydia Gautier. This author of several successful books, agronomist and keen botanist shows us how to select teas and herbal teas.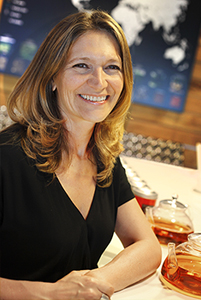 Teas Cocktails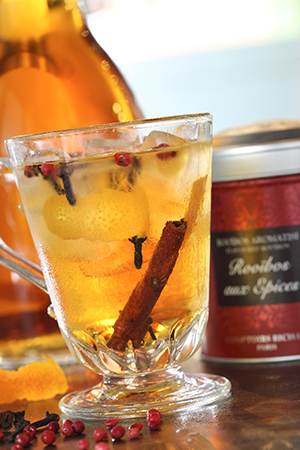 Have you thought about tea and herbal tea cocktails?
Elaborated with Comptoirs Richard premium tea bags collection, these drinks are refreshing, healthy, and organic for some. These tasty recipes are the results of the combined expertise of our tea expert Lydia Gautier and mixologist Victor Delpierre, also World Champion of Coffee in Good Spirits 2013. Their book Tea-Tail Party is to discover.