Teas
A collection of teas, teas for your collection

"A bath refreshes the body, a cup of tea refreshes the mind"
(Japanese proverb)
A tea menu should contain a range of flavours to satisfy people who simply love tea, as well as the most refined connoisseurs. While breakfast is still the most popular time to enjoy tea, we know that the tea ritual has extended to all times of day.
Of course, we could not do without the aroma of the great classics (Earl Grey, Darjeeling, Ceylon…), but we also offer original teas with gourmet or unique notes (Au temps des Tsarines, Jardin des Merveilles…), delicious blends of tea and fruit.
Black teas, green teas, plain or flavoured, rooibos… we offer flavours to suit every palate in our two ranges: Comptoirs Richard (exclusive range) and Parney's (classic range).
To learn more and make your tea menu more attractive, why not take one of our Universi Thé courses.
Black teas
Behind the expertise of a rich, complete selection lie several places of origin, each with their own authentic tastes: China, India, Sri Lanka... The leaves are rigorously selected and then carefully wrapped in a transparent silk-like bag.
Black tea has remained popular for centuries thanks to its great variety and rounded, copper-coloured infusions.
The Comptoirs Richard black tea exclusive collection is created for demanding professionals.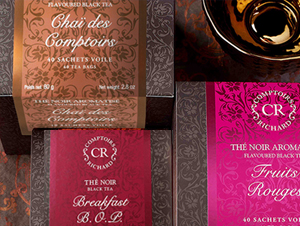 The range of aromas in the plain black teas range includes full-bodied flavours such as Lapsang Souchong, with a smoky spruce flavour, while teas like Jardins de Darjeeling offer a blend of refinement and balance. The journey carries on all the way to the pronounced, full taste of Ceylan O.P.…
Our flavoured black teas are available in gourmet, classic and plain varieties. Grand Earl Grey is always a favourite with its famous bergamot aromas, while Pomme Cherry surprises and delights with its old-style fruity notes reminiscent of caramelised apples...
---
Green teas
Individually wrapped in their transparent silk-like bags, our green tea leaves come from various Provinces in China... Beautiful places of origin where this drink is known for its ancestral virtues and health benefits.
The Comptoirs Richard green tea exclusive collection is created for demanding professionals.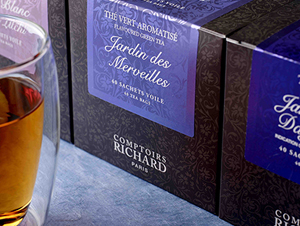 Whether you choose Sencha, with its strong plant taste, or the deliciously floral Jasmine, our plain green teas are often beautiful, pale infusions with a subtle, thirst-quenching taste.
Our flavoured green teas are blended to offer fruity recipes with enchanting fragrances and names: Au temps des Tsarines with its citrus notes, Jardin des Merveilles with a gourmet bouquet of peach and apricot, Green Tea with Mint…
White teas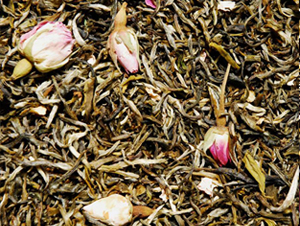 Its name has been given thanks to its green silvery reflection buds. This tea color range is one of the most delicate to get. Light in aromas, can be infused for a long amount of time, it is famous in China for its thirst-quenching properties.
---
Spiced Rooïbos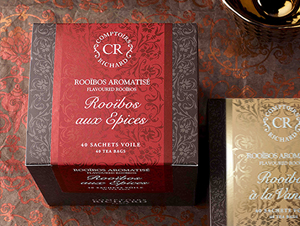 Often called "red bush tea", rooibos is not actually a tea as it does not come from the tea bush (Camellia sinensis), but from a bush that grows in the Cape region of South Africa, and contains no theine at all.
We chose to combine its woody taste with spices that give it an amazing flavour: orange peel, pieces of ginger, almond, cinnamon... Enjoy its powerful, aromatic warmth in the winter, or turn it into a refreshing iced drink in the summer.
TEAS & HERBAL TEAS COCKTAILS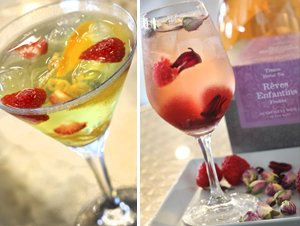 Tea and cocktail: two universes made to meet each other. The art of cocktail is coming back on the scene. Combining cocktails and teas has therefore naturally urged with the aromatic palette offered. If you want to expand your menu by offering tea cocktails, by the glass, carafe or even jar, your sales executive can give you our recipe guide. For more sophisticated cocktails, please go to our UniversiThé to check out our workshop.
Have you heard our Tea-Tail Party book? It has been co-written by Lydia Gautier, our Tea & Herbal tea expert and Victor Delpierre, expert in mixology. 50 original cocktail recipes based on Comptoirs Richard teas & herbal teas were created to appeal to both amateur and professional audiences. Tea-Tail Party - Hachette Cuisine
Around Tea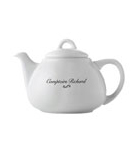 Teapot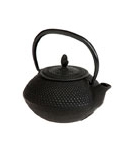 Théière fonte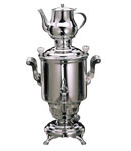 Samovar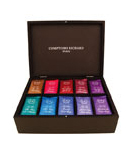 Wodden box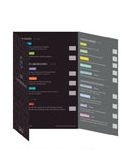 Tea menu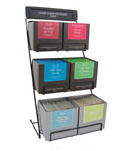 Présentoir