"I could not take my mouth off the delicious edges of her cup - a chocolate to die of, soft, mellowness, flavoured, exhilarating"
(Guy de Maupassant)
Cafés Richard promises you unique tasting experiences. Irresistible, chocolates are intense and seduce by their velvety and generous texture. Sources of pleasure, gourmet drinks are chosen for their flavour combination, from the easiest recipes to the most creative ones. A great syrups, smoothies, toppings and sauces range sublimates them. Finally, the Baristas will also compose tasty cappuccinos with creamy milk foam thanks to a special milk coffee shops.
---
Choc.o.laté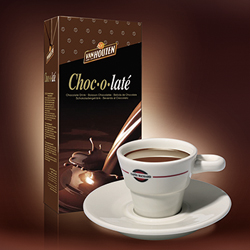 Combine with edible chocolate, chocolate is a liquid chocolate concentrate to drink that captures the spirit of chocolate: an irresistible taste, combined with a velvety and generous texture.
Ready to use, it can be consumed hot and concentrated, like a "chocolate espresso", but it can also be supplemented with milk.
Choc.o.laté is a Van Houten creation. It's a quality guarantee and respect for tradition recognized by professionals, exclusively distributed by Cafés Richard for out-of-home consumption.
Thanks to the aesthetic and functional Ugolini hot chocolate pot, Chocolate product is always at a good temperature. With a significant advantage: the pleasure of the eyes.
It is quite hard to resist to this unctuously creamy chocolate brewed in waves on counters...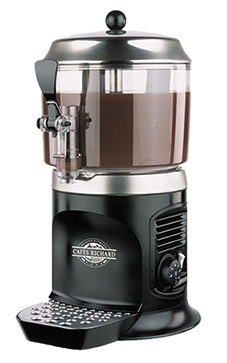 Chocolate powder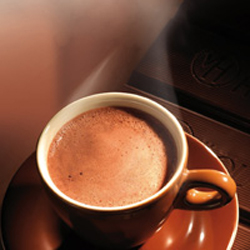 With chocolate powder, you can make real "hand-made" hot chocolate, following the traditional recipe. The result is a creamy, delicious beverage...
We also propose a dairy chocolate powder, ideal for chocolate pots and multi-product machines, for fast service and a hot, fragrant drink...